Belvedere Youth Club originated when Belvedere Social Services assumed responsibility for two existing inner city youth clubs in 1918. Two of its founding members were Victor Plunkett and Dr William Lombard Murphy.
BYC was known as the Belvedere Newsboys' Club until 1969, running a variety of educational and recreational programmes, including sports, summer camps, literacy and remedial education from a number of locations in the inner city. In 1972, the club engaged its first full-time director and admitted female members, changing its name to Belvedere Youth Club. In the 1980s, we hired our first employee and took the first step form being a volunteer-based organisation to a professional youth service.
Throughout the club's history, ex-pupils of Belvedere College (Great Denmark Street) have supported and developed the club through the Belvedere College Union. For many decades, the club operate from various rented premises around the area. In the 1990s, concerted fundraising initiatives enabled us to raise the €650,000 necessary to move to a permanent, custom-built location in Buckingham Street. Owning our own premises has allowed us to plan for the future in a much more concrete way.
One of the wonderful things about BYC is how generations from the same family will walk through our doors as youngsters. The club is one of the most popular community projects in the inner city. This long tradition and history make BYC special and, to this day, past members will regularly return to the club – as visitors or to get more involved in our work.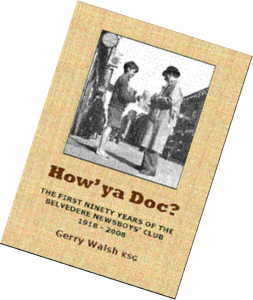 In the noughties, 'old boy' Gerry Walsh published a history of the club, full of memories from people who attended or were connected with the club. This celebration of the first ninety years of the club is packed with reminiscences and photos and is a must for anyone who would like to know more about our history.
Gerry Walsh attended Belvedere College in the 40s and went on to build a successful business career. He joined the Belvedere Newsboys' Club as a leader in July 1950, served as director of the club from 1961 to 1966, and as honorary secretary for a number of years. He was elected President of the Belvedere College Past Pupils' Union for the year 2005/06. He was invested as a Knight of the Pontifical Order of Saint Gregory the Great in 2006.